---
Advanced Auto Parts
https://shop.advanceautoparts.com/





Advanced Auto Parts is a one stop shop for all of your car part needs. I especially like all of the deals that the have for online orders. They also have a link to their sales flyer so you can get every deal possible. If you need parts right now they have plenty of locations all over the USA.

Advanced Auto Parts Contact Info:

Phone: 877-238-2623

MrCarGeek Pros for Advanced Auto Parts
15% discount for online orders
Buy Online, Free In-Store Pickup - Ready in 30 Minutes
MrCarGeek Cons for Advanced Auto Parts
They close at 9pm
---
More Best Car Parts Sites
---
5. Pep Boys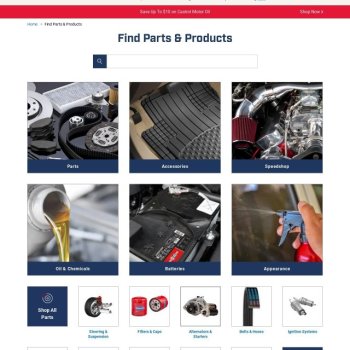 I've been going to Pep Boys my entire life and they have plenty of parts at their local locations. I've recently started purchasing parts online and they have fast execution...
6. O'reilly Auto Parts O'Reilly Auto Parts is one of my go to locations when I need car parts. They are always very helpful and are very knowledgeable. Some parts and tools are guaranteed for...