---
Motor Biscuit





I've been visiting Motor Biscuit for a long time and I am always entertained and informed when I do. There are plenty of cars and reviews to read from the Bronco to the smallest electric car in the world.
Motor Biscuit Contact Information:
Phone: 877-915-6269
Email:
[email protected]
Mailing Address:
PO Box 8912
Asheville, NC 28814
MrCarGeek Pros for Motor Biscuit
Great articles and other content
MrCarGeek Cons for Motor Biscuit
I wish they had more
---
More Car News & Review sites
---
9. The Drive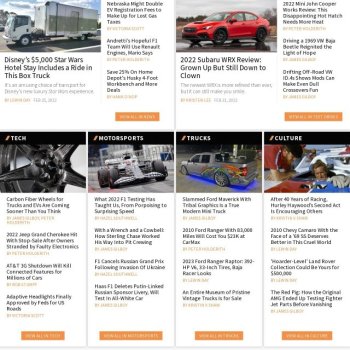 The Drive is a Automotive news online magazine with great stories about everything car related. The offer stories from new cars to car taxes etc. I've already added then...