---
Petrolicious





Petrolicious.com
is one of my favorite online car magazines. They have great articles from racing to luxury cars to celebrity vehicles. I especially like the beautiful photos they take. You can see that they spend just as much time taking great photos as they do writing great stories.
They do have a cars for sale section but it looks like they haven't placed new listings in some time. They also have an events section but right now there isn't anything on that page.
Don't let that stop you from clicking and enjoying the articles section which has plenty of entertaining and informative stories.
Petrolicious Contact Info:
Email:
[email protected]
MrCarGeek Pros for Petrolicious
Be sure to check out their entertaining featured films section
Great stories and even better photos
MrCarGeek Cons for Petrolicious
Cars for sale only has outdated listings
No info in the events category
---
More Car News & Review sites
---
9. The Drive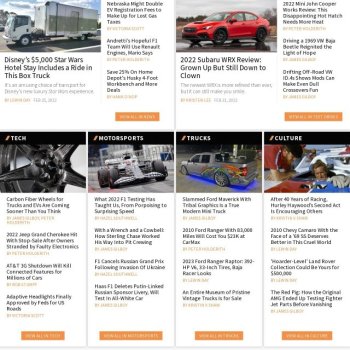 The Drive is a Automotive news online magazine with great stories about everything car related. The offer stories from new cars to car taxes etc. I've already added then...
10. Car Scoops Car Scoops is a website that provides news, reviews, and information about the automotive industry. It covers a wide range of topics, including new and classic cars, car shows,...